Over the past two years a number of Western visitors have said they would like to travel with us to meet and practice with our qigong friends throughout China. In response, we will organise a 17-days trip September23-October9 in 2017. you can see photos about the trip in 2010 and 2011 at http://hexju.cname01.com/gs_detail.asp?id=500498&nowmenuid=500304&previd=500305
http://hexju.cname01.com/gs_detail.asp?id=500499&nowmenuid=500304&previd=0
2017
Sep 23th to Oct 9th ( Beijing-Hainan)
The cost is 2100 Euro.
The cost is 2100Euro (based on sharing a room - a single room is an additional 400Euro). This includes all transport and meals during the trip.
The group size is a maximum of fifteen.
The trip starts in Beijing where we will spend one week practising qigong with local Beijing qigong friends in the Temple of Heaven, Great wall and Forbidden City. meet some teachers and share qigong experiences. From there we will fly to Hainan Island; we will stay in Hexianju qigong centre in Hainan for practicing qigong and totally relax for two weeks and travel around Hainan Island for 2 days by fast train during the stay in the centre.
To secure your place on the trip, a deposit of 500 euro is required no later than June. However, due to the limited number of places, you may prefer to make your payment at an earlier date.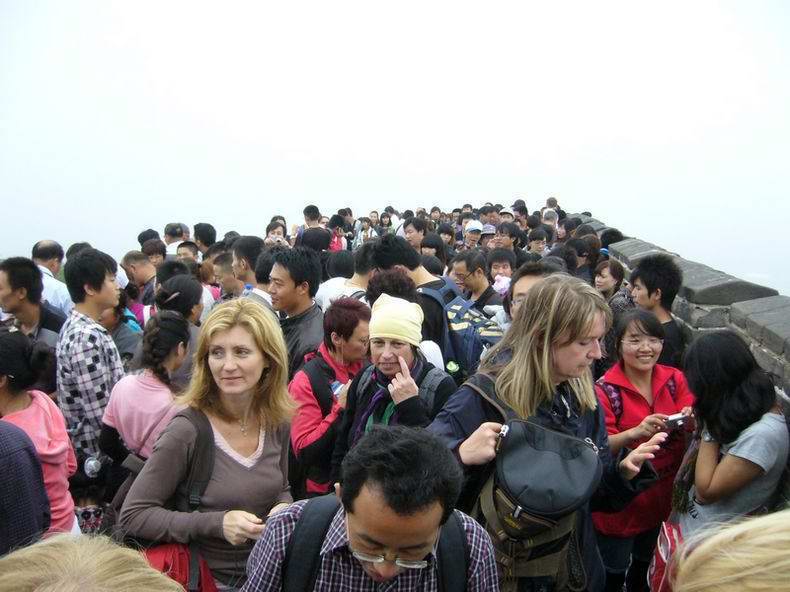 We are great on Great Wall!
My Travel to China (Sep in 2011)
China always fascinated me, poems, Tao Te Ting and I Ting – these three topics when I was 20 years old.
Last winter I fall on street and suffered back injury and I stopped to exercise yoga ( I do it 8 years). I could not do more asanas on hard ground. I remembered words of my friend´s son about Qi Gong, looked on Dasha´s website and on February 2011 was on her course. Since then I am exercising Qi Gong. I traveled to China – the main reason – exercise Qi Gong with Chinese people and to eat Chinese excellent rare food and to be in China.
Days from 10 September till 1 October are one of my best in my life, China surprised me positively by people´s approach to live at present and not in the past, I was shocked by old people appetite to do exercise, to meet one another, to talk, TO LIVE !!!! I like them.
My wish was to exercise Qi Gong with Chinese people – I did it in the middle of them in Taijin, they give me their QI and I felt as never in my life, I deeply wept by luck
I was very happy even the happiest in my life. Qi Gong give me deep emotion, to see my inner feeling……I can write many pages about what Qi Gong gives me.
In Hainan I was fascinated by nature, sea and training centre by its people.
Last day and typhoon gave us all lecture, I think for me positive one.
I can not express more how I felt in China – deeply, profoundly and happy.
I am praticising Qi Gong every day, started lecture Chinese language in Language School and I do believe that I will come back to China again.
Now, it is one week from my arrival to Prague, and I am not still in my Czech "shoes", still in China looking on pictures and having nice feeling in my heart. My heart will be for ever in China…..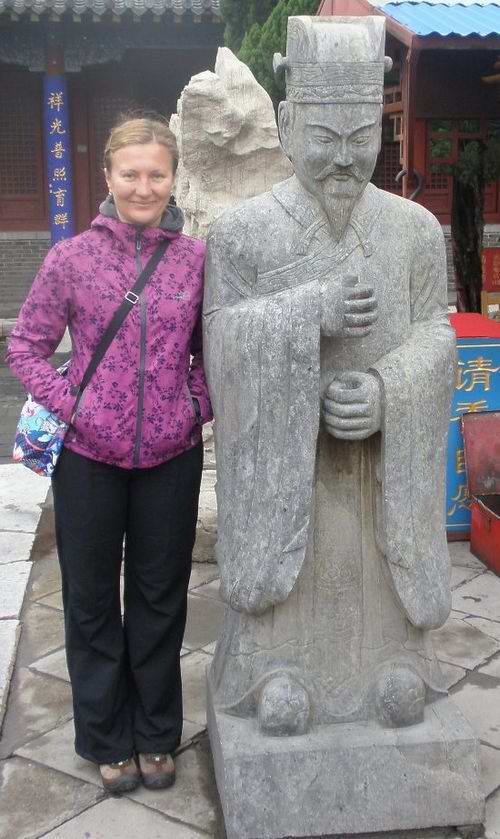 Several years ago I had many health problems. As I always believed in holistic medicine, I started to go to a doctor of Traditional Chinese Medicine. He helped me a lot and he often spoke about Qi Gong… One day I decided to start with Qigong practise. This thougt came up somehow and I found on the internet a course of Zhineng Qigong led by Dasha – a wonderful Czech teacher, who introduced Zhineng Qigong to me and changed my life…
I would like to express many thanks for organizing such an amazing trip in China. I have been back home for two weeks but I am still in China in my thoughts. It was the best holiday in my life and I know I will come back in future.

I really appreciate your effort to make the trip as interesting and convenient for us as possible. Thanks to you, Zou, Dasha and the others I enjoyed the time we spent together wherever we were.. I fell in love with Chinese food, culture, language..I started to learn Chinese with Monika. I also really like singing 8 phrases as it creates strong, deep feelings in my soul.

I have been practising Zhineng Qigong for two years and I like practise in a group. I liked so much practise with a group of Chinese people in Beiging and in Taian. It really touched my heart to see that Chinese people were happy to welcome us in your country. I hope I will be able to come back one day to Hainan and practise in your new beautiful qigong centre and sing 8 phrases with you again..
With Love, Zuzana ( zuzadvorakova@email.cz)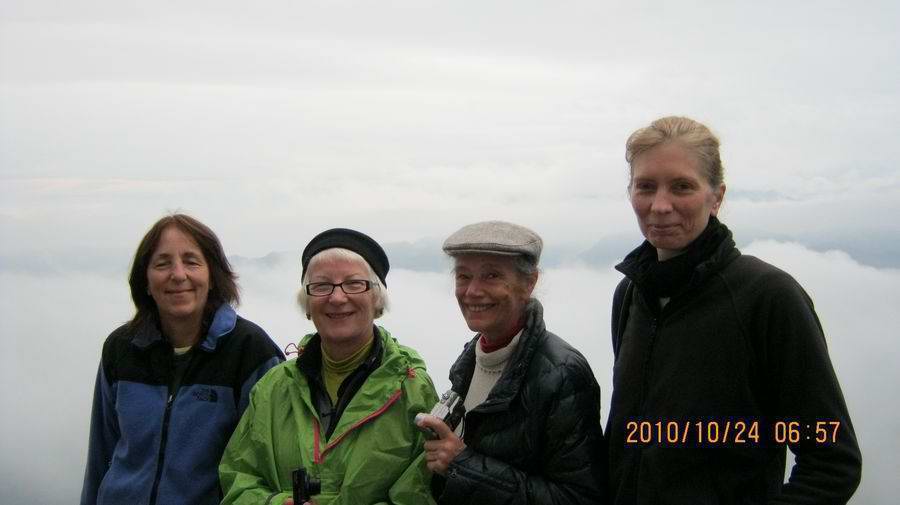 It's like a dream in Qiyun Mountain
My trip to China ( Oct in 2010)
Our trip with Jianshe, Zhou Ping and Bai to me certainly was one of the best times of my life.

Every day was new and exciting and to me every experience was like a present which I enjoyed very much. It was so nice to just relax, let go and trust that everything would be fine as we were so well cared for by the three men from the centre in Hainan.

As we were only five people from Europe and our teachers, we soon felt very close and at home with each other. Our daily practice of Qi Gong took part in places as different as a hall with construction work going on around us, a bedroom, different parks and mountains, the Chinese Wall and a Qi Gong centre.
We learned that everything is Qi. So even when we were surrounded by noise and thousands of people we could relax and focus on emptiness and blue sky inside and outside. It gave us the chance to send good information to everything we were doing and to everybody, near and far, and keep a positive "sunshine mind".

China is a great country full of contrasts. Our trip has given us some idea of this. At first we visited the capital, Beijing.

We stayed in a nice hotel near a lake in a very old and traditional part of the city. From here we visited the Chinese Wall near Badaling. And despite the thousands of tourists we managed to find some nice and quiet place on the wall where we could practise Lift Chi Up together and later have a picknick. It was truly wonderful*

Another great experience was our visit to the park next to the Temple of Heaven. I was so amazed to see that hundreds of people had already come to the park when we arrived in the early morning. They were doing every kind of movement and practice, including singing and dancing, which you can imagine. There we met a group of Zhineng QiGong friends and we practised Qi Gong together. It was a very moving experience for all of us! We were invited by many of them to come to their homes and we actually went to three different homes for lunch during our time in Beijing. It was great to be able to learn about their lives and talk about Qi Gong, mostly with the help of Zhou Ping and Jianshe who translated for us.

After Beijing we went to Taian by train. We stayed in a nice hotel for eight days and visited the local Zhineng Qi Gong Centre every day. To our surprise we found a big poster saying "Welcome, my friends!" when we arrived at the centre but the surprise that was waiting for us inside was even bigger: almost one hundred people were sitting in the practice room under the roof and they were applauding and celebrating our arrival enthusiastically. I was so moved that I felt tears of joy in my eyes! From that day we practised together with them every day. We were able to choose between a really challenging but very good Body and Mind Practice which was going on for three hours and a more gentle meditative practice downstairs.

In the afternoon we sometimes had a lecture about Chinese medicine by teacher Zhu, the founder of the centre. It was all very interesting. We got into contact with many people who stayed at the centre to recover from some health disorders and some others who regularly came to the centre because they just enjoyed practising.

Taian is close to the famous Taishan mountains which we also visited. It was a very different mountaineering experience to walk up stairs 4800 steps together with probably several hundred thousand people. The Chinese enjoy company and community so much! In China there are not many places where you can feel lonely because even on the trains, buses and on the metro you will probably find yourself smiling and talking to someone. It is just contagious how nice and open- minded most people are.

Our last night in Taian was celebrated with a party where many people sang beautiful songs. We had a strong feeling that despite our different languages and experiences we were one happy community of people connected with each other!

After a long but joyful trip on the sleeper we reached our next destination, the beautiful and quiet Qiyun Mountains where we relaxed, went for walks and of course and practised Qi Gong every day. We enjoyed the great scenery, the little village with its thousands of stairs and the Daoist temples very much.
Hangzhou was the last place where we stayed on this trip. It is a beautiful city with nice shopping precincts and a beautiful lake. Apart from our practice we enjoyed the shopping, us ladies particularly liked the silk shops.

I feel very grateful for everything I received on this trip, for the community, for the chances to learn from others, for the beautiful things we saw, for the people we met, for our teachers who so well cared for our bodies and minds. They got delicious food for us everywhere and they encouraged us and taught us how to open our minds so that we can be nourished by Chi on the trip and also in our daily lives.
Thank you for this truly wonderful experience*
Love, Luise (
lukoha@web.de
)