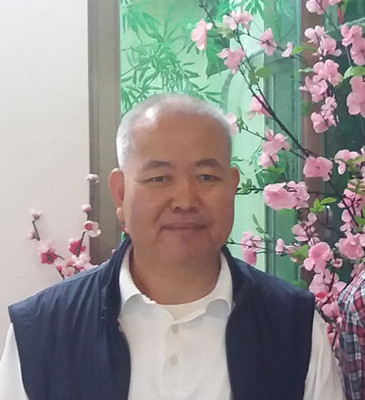 My name is Liu Jianshe, I am 59 years old.
I was introduced to qigong in 1989 in Beijing and my destiny henceforth changed.
I was born in the Chinese famine time and grew up during the ten years of the Cultural Revolution. I suffered mentally and physically during this time and from 1966 to 1989, I suffered from painful stomach aches throughout the three winter months each year.
Since I have been practising qigong my mind and body have changed greatly. For the first time I felt so beautiful to be a human being! It was also the first time I felt proud to be Chinese!
When your life improves and you are full of energy, everything becomes beautiful in your eyes, everyone is kind to you. It's true that you yourself change and the whole world then seems different.
Qigong brings people happiness and inner joy. Qigong gives more energy and strength!
We feel each day is the start of our new life, we can make our life more beautiful and full of energy every day! I have been engaged in qigong healing and teaching since 1991. I have spread qigong in city and village, in China and overseas. I have witnessed many marvels of healing with my own eyes. I deeply feel qigong can bring hope to humanity and harmony to the world.
My simple history:

I was born in avillage that lies in the bend of a beautiful river named Qi. The Qi river was so clean that I could see the fish swimming among the grass of the river bottom! It is located at the boundaries of Xun County and Qi County, Henan Province, China.
My birth was at a time of starvation for many Chinese. In that year only several babies were born amongst the almost 3000 people of the village. Compared with others, our family was the richest at that time. I received a lot of love from the people of my village, I thank them for it always! I remember performing a short play with one of my older sisters on the village stage when I was 4 years old in the winter of 1964; the director was my brother who was 15 years old at the time; the play was very well received.

My primary school was located in a beautiful temple with lots of cypresses in the yard. The school was famous in Xun County and the temple had a long history. I disliked going to school, often climbing up the persimmon tree to play by myself. As soon as class was over I joined in the students' group heading home.

The temple was destroyed in the Cultural Revolution and the school closed.
My good times also ended with the Cultural Revolution.
Life for our family gradually deteriorated; false charges were laid against my father and mother and people started to treat us badly. In 1972 my parents decided to move to the region my father was born in, where none of this was known.
My difficult life began in the summer of 1966. I hadn't enough food to eat, my classmates looked down me, I had to work in the fields with the adults through the summer holidays. I was a very sensitive child and all this affected my health. From 1967 I had frequent stomach aches.
When the Cultural Revolution ended late 1976, things improved for my family. Universities in China again accepted students through examination results. For the overwhelming majority of Chinese, university was the only way to change their destiny. Between 1966 and 1977 several million examinees had built up. Whatever their level of learning, each one had a dream that they would succeed and sit in a university classroom.
When I sat the exam I was so excited that I couldn't write one word for the first 15 minutes. I had borrowed a watch; I was staring at it and it made me extremely anxious!
The enrolment rate was 1% in our countryside. My brother and I were both successful in 1977 !
This success brought me only brief happiness. I faced many challenges due to my bad health, various social issues and my state of mind.

After graduating from teachers college I was in a school for eleven years. In March 1989 I gave up my job and went to Beijing in the hope of being able to study abroad. Then with the suppression of the Tiananmen student movement, Western governments stopped student visas for Chinese. I had lost the opportunity to go to Australia, given up my job, and used up most of my money. My health broke down; I was afraid to go home as I didn't want to bring unhappiness to my mother.
But as the Chinese saying goes, Heaven never seals off all exits; in the gloomiest time of life I met my SUN: Zhineng Qigong, in November 1989. So today I am thankful for all my terrible suffering!
Email:
baiyuchan9999

@163.com
Address:
Mr. Liu Jianshe
Hexianju
Dongjiao Yelin Bay, Wenchang City
Hainan province, 571334 China