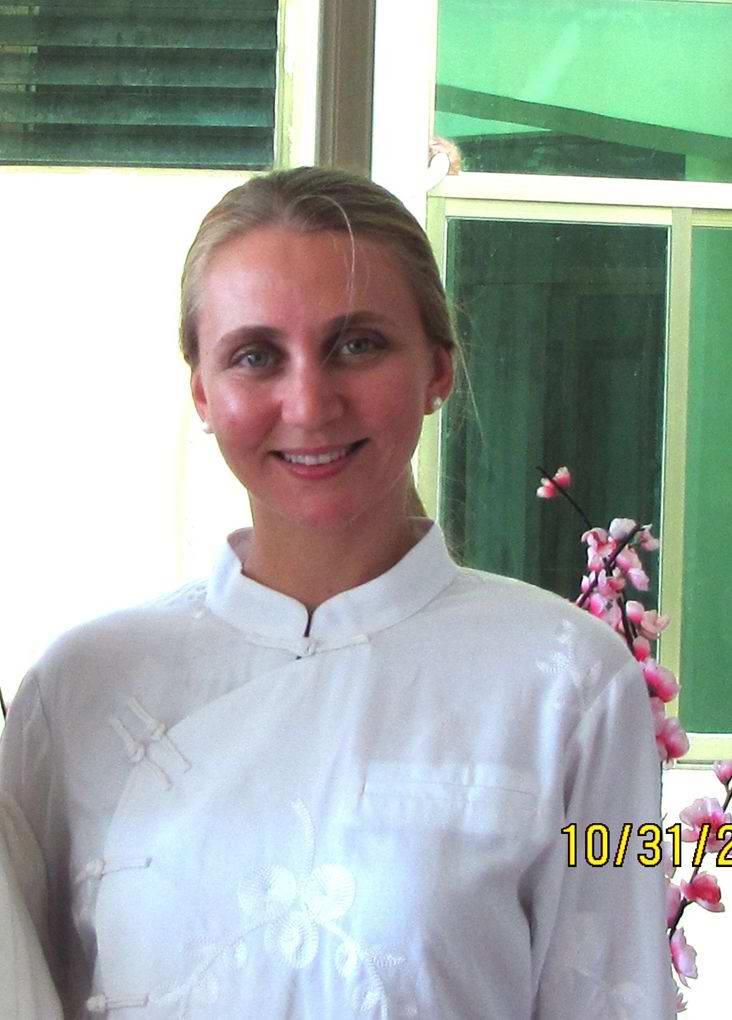 I had an amazing experience of improving my health and emotional and mental stability after staying in the Qigong Center in Hainan. As I was studying in the Center I was wondering if whether when I go back anything will be different for me upon my return home.
I was worried that I will slide back into my old habits of worrying and rushing, hassling and never having enough time. It has been a month since I have returned home from the Center and I can say I am a new person. The month I spent in the Center made incredible changes in me. Now as I continue practicing what I learned I notice how much better I feel, how much more interesting life around is, and how much more I can enjoy it. Feeling the freedom and energy is amazing. This was the most important month of studying for me out of many years spent for my formal education.
Thank you to my wonderful teachers for opening the door for me to discover the path to my uncovered potential and joy. What you do for people is not only helps them with their current issues but helps them not to create new ones by staying in peace with themselves and feel happy from within.
annakiesz@yahoo.com
---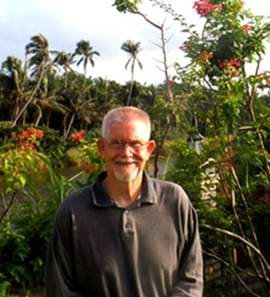 Testimonial of Harold Hall regarding October 30 to November 11, 2014 Visit to Zhineng Qigong Centre on Hainan Island

I am a 71-year old neuropsychologist and war veteran who sought and received an invitation to the Centre for declining health due to a host of trauma-related injuries and serious chronic conditions. Death and dying issues are familiar to me from the military and forensic work with hardened criminals and other violent groups, and I felt I was in a negative, unescapable downward spiral despite exposure to a variety of Western methods. When I arrived at the Centre, I almost fell off the front porch but was grabbed by the teachers, and barely made it up the stairs to my assigned room. After one week at the Centre my continual, intense pain was gone, reappearing only under prolonged exercise. Next, the severe sleep problems I have had for 48 years since Vietnam left me. My energy level skyrocketed, the strongest since I was in my twenties, and I walked and cycled long distances from the Centre. My attentional focus has improved along with improvements in thinking and visual-motor skills as will as a disappearance of my depression. My hair stood straight up after several days due to no known cause, Jianshe saying it was due to the qigong; I got a haircut but still the hair went straight up, so I got a second short haircut so I would look normal. Unexpected benefits occurred. This place is in the middle of a powerful qi fild, so much so that I don't feel isolated at all like before. I feel connected to everyone and everything with the ability to make myself the center of the qi field wherever I go. Every day I improve, knowing that it is a choice to live and grow, My own qi field is not stable yet, and sometimes I regress to ego and judgement. So I will do the exercises each day, rain or shine. Hun Yuan Ling Tong! haroldhall77@gmail.com
---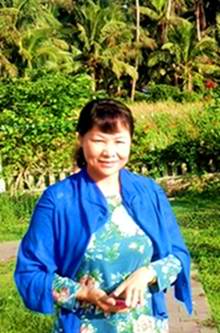 My name is Wang Jin Ling and I'm 54 years old. I am from Inner Mongolia. I was diagnosed with breast cancer in 2008. I had an operation on my right breast in 2008. Last October 2013, the cancer recurred. The doctor wanted me to have drug treatment again for the cancer. I felt that I was too weak to bear the chemotherapy treatment, so I refused. Then I was going to gamble with my life and I tried Qigong. The medicine was too bad to my body so I thought maybe Qigong would help me.That was a big decision for me. I was introduced to Hexianju Qigong Center in November 2013. Since I came to Qigong center, I felt relaxed day after day.I didn't realize what challenge qigong practice would be for me. I learned from the teacher that my mentality and emotion has strong effect on my health.At the beginning I did not tell anyone at the Qigong center about my cancer.I was not sure if Qigong would help or how people at the Center would treat me, so I kept my diagnosis as a secret.In fact I felt sad about my situation. I was depressed about having cancer.I started learning medication for depression in 2010. Even though I was at the Qigong Center I continued to do medication to treat my depression. Gradually I put all the diseases down and enjoyed the life here.I learned from the teacher and practice with them.Then after 20 days of practicing Qigong in Hainan, I felt much better.So I went to see the doctor. At the hospital they got my blood checked and examined me for cancer. They said there were no signs of cancer in my body. I did not exactly believe them since that was a local hospital. But it was also amazing that a tumor growing behind my right ear was completely gone. I felt that my health,my attitude and everything in my body was improving.It was unbelievable . I started to cut down the anti-depression medicine at that time. In January of 2014 I completely stopped the medicine. Now I feel happy and optimistic.I like music,singing and dancing and enjoy my life every day.You can never say I am depression.
In April 2014, I went back home to Inner Mongolia and went to a larger hospital to get checked again.My doctor encouraged me to get a complete physical checkup there. I think the hospital is more reliable than the others. When the results came out,the doctor asked me where I had been all these months and what I have done to my body.I told him I was practicing Qigong. He was not sure what Qigong was but he was astonished.At the hospital the advanced CT Scan machine and many best equipment was used to examine me.They found no traces of cancer this time.
I feel life is much more beautiful now. I love my life and i feel I am getting healthier and younger day after day.I am sure I will live longer and happier. I have a lot of things to do in my life.So I hope people suffering from cancer and other miserable diseases all know and learn Qigong and find the very natural and effective way to teat yourself.I hope It will not only help you with your body but also improve your attitude to life.I like the surroundings at the Hexianju Center.It very beautiful and pleasant.I like the food here and people are so nice and friendly.The teachers here are full of positive energy and good information.When you stay here you will forget your illness and blend into the beautiful life spontaneously.Your illness is healed naturally at the meanwhile. The qigong practice is simple and anyone can learn. I hope more people can get a new and beautiful life as I have.Believe me!I can do it,you,too!
gracestephen@comcast.net
---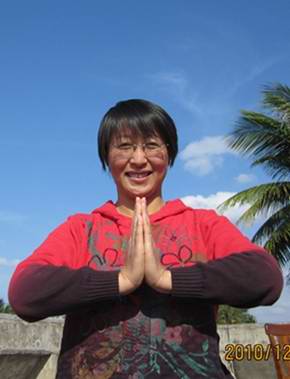 My name is Bu Xiao Jing from China.I am 45years old. Six years ago,I was diagnosed with systemic lupus etythematosus(sle).At that time, I was too weak to work.My face was full of erythema. The doctors had no good method to the disease except for advising me to stay in the hospital to be treated with western medicine.Being afraid of the side effects of the western medicine,I refused to receive the treatment in hospital.I tried the Chinese medicine but it didn't work.
Luckily I was introduced a Qigong centre. I met a lot of practiceners there who suffered from different kinds of serious diseases.But most of them looked very happy and optimistic.Among them,a young girl who had the same disease with me inspired me most.She told me that her disease was very serious and she had nearly died.But she got better and better through practicing qigong. So I made up my mind to practise following the example of her.I thought she can heal herself,I can heal myself too. From then on,I began to learn and practise qigong in the centre.I practised very hard everyday .At that time,what I did and what I thought was all about qi and healing besides eating meals and sleeping.Every day I gave myself good information and also received good information from the qi field.
Day after day, I felt better and better. I got weight and the erythema all disappeared.I was full of vitality again.After I stayed in the centre for 24 days,I went to the hospital to get my blood checked.My white blood cell increased from 2000 to 4000.It was normal as a healthy person.For six years,I kept on practising qigong and I am very well now.I believe I has healed myself without any western pills. Now I am living a happy and heathy life. I appraciate everybody who came in my life and everything which happened in my life. 1343879290@qq.com